EMBRACE YOUR DIVINE FLOW
Evolvements for Healing

EDITED BY JULIAN HOBSON & LORENE SHYBA
FOREWORD BY ELIZABETH ROCKENBACH
ART BY HELENA HADALA
ORDER FROM: Local Indy Bookstores, or Indigo/Chapters, Amazon, Barnes & Noble. BUY NOW DIRECT.

THE AUDIOBOOK IS AVAILABLE NOW ON AUDIBLE, ON KOBO, and soon on many library lists.
Go To The MULTIMEDIA: VIDEO, EVENTS, WORKSHOPS, EXCERPTS, and LINKS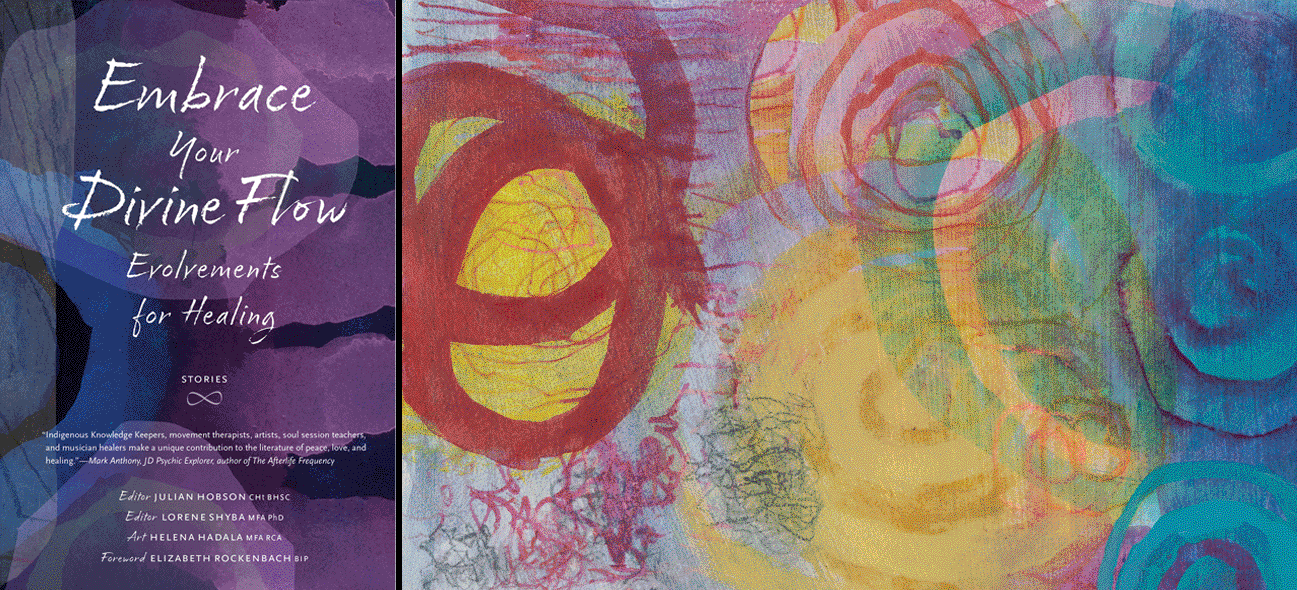 "An inspiring book. This diverse collective of spiritual practitioners, from Indigenous Knowledge Keepers to movement therapists, artists, soul session teachers, and musician healers make a unique contribution to the literature and explorations of peace, love, and healing."
~ ­Mark Anthony, JD Psychic Explorer, author of The Afterlife Frequency, Evidence of Eternity and Never Letting Go

Embrace Your Divine Flow is filled with inspiring "evolvement" stories and art that beautifully convey how love, light, and adventure can spark awareness and peace in your life. The thought-provoking exercises guide you on a path toward uncovering your own truth, as revealed through the impactful offerings of the artist and authors.
Created by a collective of spiritual practitioners, the substantive investigation asked of contributors was: "What is your connection to the divine — whether it be God, the source, the light, the power of the universe, or Newet'sine, the Creator? How does this connection to the divine flow a path of least resistance along your river of life and beyond, and how might you share this?" Authors' themes include sacred places, sound and sensuality, protection, infinity, authenticity, spirits, and gratitude.