Reviews of True Cases Series books and other Durvile Titles.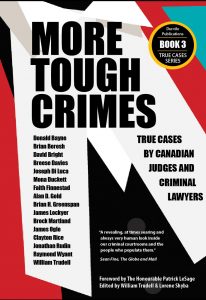 More Tough Crimes: True Cases by Canadian Judges and Criminal Lawyers
Eds: William Trudell and Lorene Shyba.
Foreword by The Honourable Patrick LeSage. Book Three in the True Cases Series.
READ EXCERPTS.
The sixteen stories in More Tough Crimes are written by Donald Bayne on the Senator Mike Duffy trial and the theme of a trial as media spectacle;  Brian Beresh on a historic case about the last woman in Alberta to be sentenced to death; David Bright with a tale of intrigue spanning extradition and incarceration from India to Nova Scotia; Breese Davies on a teen who died by self-inflicted strangulation in her prison cell; Justice Joseph Di Luca on funny and, at times, tragic stories of inmate appeals at the Court of Appeal;  Mona Duckett on a Mr. Big operation where the client falsely confesses to the killings;  Justice Faith Finnestad  on the twisting, turning, and unravelling of people's lives as a crime unfolds; Alan D. Gold on the Andre Gravelle murder and bogus lip reading evidence; Brian H. Greenspan on the case of hockey agent and promoter Alan Eagleson;  James Lockyer on the wrongful conviction of Steven Truscott; Brock Martland on the Surrey Six murders focusing on the Crown negotiating deals with alleged triggermen; Judge Jim Ogle on the case of druggist Stephen Kesler who shot and killed a robbery suspect;  Clayton Rice on a murder appeal involving a man with a serious mental disorder; Jonathan Rudin on the deaths of young Aboriginal people from fly-in communities in Northern Ontario and the quest to get an inquest; Judge Raymond Wyant on a vicious case of rape and murder that changed his life and career  forever;  and William Trudell on the trial of the contract killer of the wife of Helmuth Buxbaum.
A percentage of sales goes to Canadian Women's & Family Shelters.
Book Three in the True Cases Series.
Trade Paper, $29.95 | E-book $16.95
ISBN: 9780994735256  | 276 Pages | Release, May 31, 2017
***
SHRUNK: Crime and Disorders of the Mind
Edited by Dr. Lorene Shyba &
Dr. J. Thomas Dalby PhD
Foreword by Dr. Lisa Ramshaw
Book Two in the True Cases Series
Release date May 5, 2016
Following the enormous success of Tough Crimes: True Cases by Top Canadian Criminal Lawyers, SHRUNK is the second book in Durance Vile Publications' "True Cases Series."
SHRUNK: Crime and Disorders of the Mind is a collection of powerful chapters by eminent Canadian and international forensic psychologists and psychiatrists who write about mental health issues they face and what they are doing about it. Unlike any other book within the genre of True Crime, SHRUNK is the first book that delves deeply into the disturbed human psyche to help build a solution to the problem of understanding mental illness within the criminal justice system.We asked our forensics experts to tell stories about cases that still haunt them. Among the stories in the book are: Dr. Joel Watts on Luka Magnotta; Dr. J. Thomas Dalby on serial killer Clifford Olson; Dr. Jeffrey Waldman on Vince Li and the Greyhound Bus tragedy; Mr. Justice Richard D. Schneider on a typical day in Mental Health Court; Dr. Sven Å. Christenson on a Swedish case of psychopathic personality and media manipulation; Dr. Jack White on the most notorious Australian serial killing of all time; Dr. Louise Olivier on a case of dissociative fugue in South Africa; Dr. Donald Dutton on an American case of mind-control and folie à deux; Dr. Stephen Porter and Tianna Dilley on brain damage and extreme amnesia; Dr. Barry Cooper and Jacqueline Kanipayur on malingering; Dr. Marc Nesca on catathymic murder and necrophilia; Dr. Patrick Baillie on David Milgaard's wrongful conviction; Dr. Lawrence Ellerby on deviance to rehabilitation; and Dr. David Dawson finds moments of warmth and shared humanity with psychiatric patients. Criminal defence lawyer William Trudell writes about working with forensic experts and their contributions in the defence of those suffering from mental disorders.
Read excerpts from the book. A percentage of sales from the book go to the Schizophrenia Society of Canada.
Shrunk: Crime and Disorders of the Mind
Release Date: May 31, 2016
Trade Paperback. $29.95 | 276 Pages.
ISBN: 9780994735201
---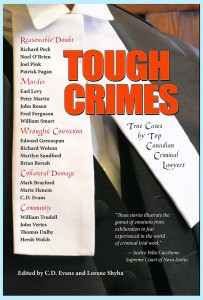 Tough Crimes: True Cases by Top Canadian Criminal Lawyers
Edited by C.D. Evans QC and Lorene Shyba
Book One in the True Cases Series
Read Excerpts |See Media and Reviews
"Tough Crimes demonstrates that Crown prosecutors and criminal defence lawyers do not escape unscathed from serious trials. The disturbing memories remain."
We've all heard the media's take on notorious criminals, but when have we had a chance to hear directly from the lawyers who defended or prosecuted them? We've all lamented the fate of a person who we think was wrongfully accused, but who better to explain what happened than his or her counsel who was there for the client every step of the way. Included in the list of twenty-one eminent contributors are Edward Greenspan on a miscarriage of justice; Marie Henein on the wrongfully charged; William Trudell on the Walkerton water treatment tragedy; Mark Brayford on Robert Latimer; Richard Peck on the Air India disaster; William Smart on "Mr. Big"; Thomas Dalby on the Taber School shootings; John Rosen on defending Paul Bernardo; and Earl Levy on Toronto's Shoeshine Boy Murder.
Edited by C.D. Evans, Q.C. and Lorene Shyba, Ph.D.
A percentage of sales from the book go to the World ORT Education Program.
Tough Crimes: True Cases by Top Canadian Criminal Lawyers
Release Date: November 13, 2014.
Trade Paperback. $29.95 | 288 Pages.
ISBN: 978-0-9689754-6-6
—
Book Trailers