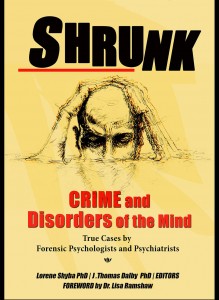 Shrunk
Crime and Disorders of the Mind
Book Two of the True Cases Series
True Cases by Forensic Psychologists and Psychiatrists about mental health issues they face and the care involved in dealing with them.
$29.95. ISBN: 978-0-9689754-6-6
Tough Crimes
True Cases by Top Canadian Criminal Lawyers
Book One of the True Cases Series
A collection of court cases that had surprising turns or presented personal and ethical challenges.
$29.95. ISBN: 978-0-9689754-6-6
5000 Dead Ducks
Lust and Revolution in the Oilsands
By CD Evans and LM Shyba
A young environmentalist finds herself teamed up with a group of unscrupulous lawyers.
$16.95 | ISBN 978-0-9689754-4-2
A Painful Duty: 40 Years at the Criminal Bar
C.D. Evans' journey that, in his own words, "brought combat, exhilaration, exhaustion, and often, high humour … in the courtroom."
$42.50. ISBN: 978-0-9689754-3-5
Milt Harradence: The Western Flair
In this book, C.D. Evans perpetuates the legend of his flamboyant colleague with whom he shared thrills, spills, brilliant courtroom spars  for over thirty years.
$30.00 | ISBN: 0-9689754-0-2
Elite Menus
The Culinary Art of Bernice Evans
Lorene Shyba and Barbara Bergen curate and prepare the menus of notorious food critic Bernice Evans.
$19.95. ISBN 978-0-9689754-5-9