Distributed by University of Toronto Press (UTP)
EYEPIECE Adventures in Canadian Film and Television
By Vic Sarin
Foreword, The Right Honourable Adrienne Clarkson

Excerpts and Pictures | Reviews and Commentary of Vic's Work | See a gallery of pictures from the book launch.
"Vic Sarin … has become one of the greatest cinematographers Canada has ever produced." The Right Honourable Mme. Adrienne Clarkson
In Eyepiece: Adventures in Canadian Television and Film, brilliant Kashmiri/Canadian cinematographer and director Vic Sarin lays out the landscape of his life, focusing on highlights of his over 150 documentary and dramatic films. As a cinematographer, he captured the filmic beauty of many well-loved Canadian films such as Bye-Bye Blues (Wheeler, 1989), Margaret's Museum (Zimmer, 1995), and also directed his own award-winning work such as Partition (2007) and A Shine of Rainbows (2009). The book charts his formative years at CBC television on shows like the fifth estate, Front Page Challenge, and Telescope, and progresses through his extraordinary film and documentary accomplishments.
To Vic, film is a window to magic. Touching people with his art and celebrating the human side comes through in every chapter of the book, just as is comes through in every one of his films. His trailblazing, gung-ho approach to film making is remarkable and inspiring beyond any question of a doubt. His stories about working with John Lennon, Prince Charles, Christopher Plummer, Paul Gross, Helena Bonham Carter, Dennis Hopper, Indira Gandhi, Adrienne Clarkson, the Dalai Lama and many others will captivate film professionals, film students, film buffs, as well as the general public.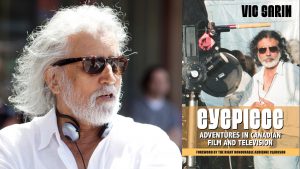 Publicity contact: Lorene Shyba, Publisher
lorene.shyba@durvile.com | 403 818-4808