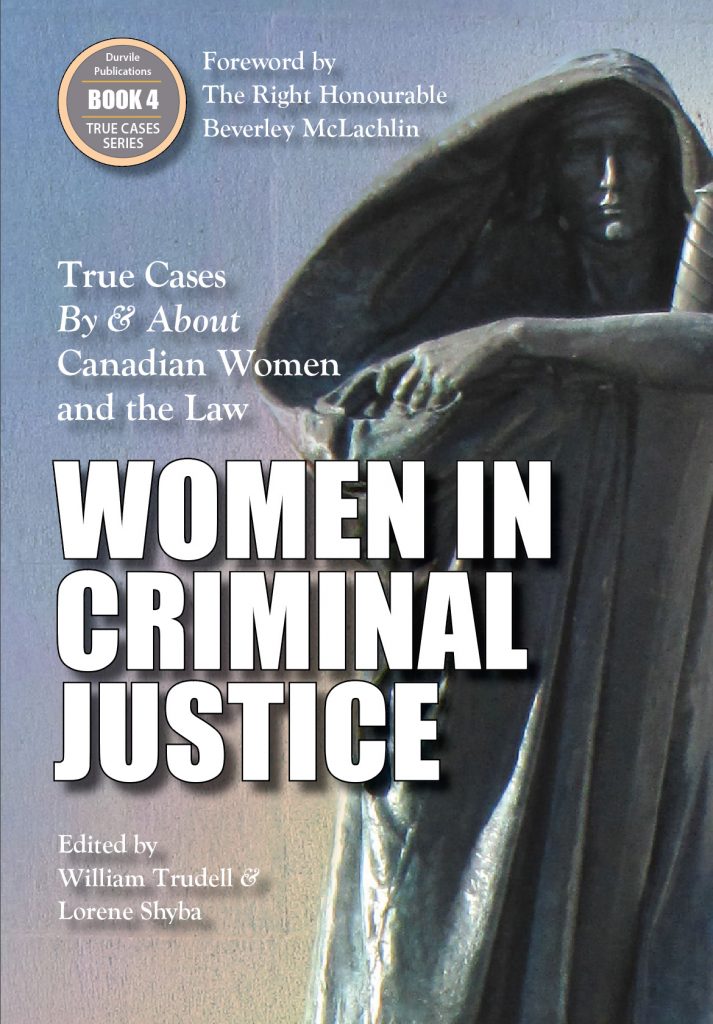 Women in Criminal Justice:
True Cases By and About Canadian Women and the Law
Foreword by Rt. Hon. Beverley McLachlin | Editors William Trudell and Lorene Shyba
Reviews and Signing Events (soon)
Women in Criminal Justice is the fourth book in Durvile's True Cases series. What makes this book unique is that all the stories are authored by eminent Canadian women judges and lawyers and deal with sexual assault, Indigenous, child protection and motherhood, mental health, LGBTQ+, immigration, terrorism, cannabis and other pertinent issues of the decade.
Here are the authors' themes in the book, summarized from their own words:
Hon. Susan Lang, "… presiding over the the 'Motherisk Hair Analysis Review' and how expert forensic evidence must always be approached with caution."
Hon. Nancy Morrison, "… awarding damages to a victim of sexual abuse who wanted to serve as an example to those not as willing to go through the trauma and uncertainty."
Hon. Lise Maisonneuve, "I provide some suggestions and strategies concerning ways that the role of women in the criminal bar can be encouraged and strengthened."
Hon. Danielle Côté, "… the sexual assault case where on the day set for pleadings on sentencing the defence lawyer told me that her client committed suicide after my verdict." 
Hon. Iona Jaffe, "My chapter is about my personal experience as part of a team prosecuting the Toronto 18 terrorism case."
Senator Kim Pate, "… ways we might end the use of isolation, where one in three women in federal prisons are Indigenous, many with histories of abuse and mental health issues. "
Jennifer Briscoe, "My experiences as a member of a Fly-In Squad, prosecuting cases in remote communities in Canada's far North."
Breese Davies, "… a case that represents the tragic over-representation of Indigenous women and women with mental health challenges in the prison justice system."
Catherine Dunn, "… even in the era of 'Gladue,' where Indigenous offenders are sentenced under special cultural considerations, women still get the short end of the stick."
Kaysi Fagan, "My topic is about women defendants in the world of drug trafficking."
Deborah Hatch, "… the failings of legal aid, the role of tenacious counsel, the vulnerability of the accused, and the ubiquitousness of wrongful convictions."
Karen Hudson, " … a case where a mother was murdered in front of her children hours after she and her six-year-old were in my office. They taught me hope and strength."
Barbara Jackman, "… immigration cases case based on secret evidence where deportation can lead to torture and lengthy detentions."
Susan Kyle, "I will examine how being a prosecutor can affect the experience of motherhood, and what life is like for children whose moms are Crowns."
Lucie Joncas, "The domino effect that a criminal accusation can have on someone's personal and professional life, their family, and even an entire community."
Jill Presser, " … I wanted to win the Dowholis appeal for Joshua Dowholis, and for all LGBTQ+ Canadians, and for my own child. "
Rosellen Sullivan, "My story is about defending a unique criminal case in Newfoundland."
Jennifer Trehearne, "The interaction between those with mental illness and the criminal justice system where psychotic persons are detained at a jail rather than a hospital."
Author royalties go to Women's & Family Shelters across the country.
—
Durvile Imprint | Book Four in the 'True Cases' series
Trade Paper, $29.95 | E-book $19.95
ISBN: 9780994735249 | 288 Pages | Release, May 31, 2018
Publicity contact: Lorene Shyba, Publisher
lorene.shyba@durvile.com | 403 818-4808
For orders contact: University of Toronto Press
utpbooks@utppress.utoronto.ca | 1-800-565-9523