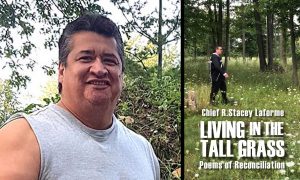 Living in the Tall Grass: Poems of Reconciliation
By Chief R. Stacey Laforme | Reviews and Signing Events
All peoples learn from authentically written expressions about not only our struggles but hope and vision. Chief Stacey Laforme has eloquently written pieces which invoke our emotion and inspire reflection and change."
—  Chief Perry Bellegarde, National Chief of the Assembly of First Nations
The poetry of Chief Stacey Laforme illustrates the wonderful state of being alive. With clear-eyed focus, rooted in the reality of daily living and guided by the grandfathers' teachings, he encourages us to appreciate the journey. His words compel us to improve our capacity to listen, to understand and learn to live together. It is a generous gift from one who cares deeply and looks for good in the world."
— Hon. Elizabeth Dowdeswell,  Lieutenant Governor of Ontario
—–
Living in the Tall Grass: Poems of Reconciliation is the second book in UpRoute Books' "Every River Poems" series. In the book, Chief Stacey Laforme gives a history of his people through stories and poetry to let Canadians see through the eyes of the indigenous people. As he says, "This collection is a reflection of the world around us and our place within it. We are 'Living in the Tall  Grass' because we cannot move forward without looking back."
About Stacey Laforme
Stacey Laforme was born on a cold December morning into a life of alcoholism and abuse. At fifteen,  he left home and lived on the street, eventually finding a home with both of his grandmothers. He started his first job at twelve years old, eventually going into the family business and joining the iron workers union. He attended college late in life. He retired from iron work and, as he admits, "If I am honest, I was not the best at iron work."
After his mother passed away at the age of fifty, he was elected to council. He ran and was elected Chief of the Mississaugas of the Anishinaabe in December 2015, a few months after his father passed away. Chief Laforme says, "I am dedicated to my people, and to all the people who live within our treaty lands."
Chief Laforme recently  became only the third Honorary Senior Fellow of Massey College, joining the Duke of Edinburgh and The Chancellor of Oxford University in the rarest honour the college can bestow.
Excerpt: From the Poem "Why Am I Indian"

Don't judge me by the fluid in my veins, or the color and shape of my skin
Don't think me Indian because I know and practice my culture
I am an Indian because my heart screams it is so and my soul knows it for truth
I am what I am, because my spirit will not let me forget.
See video of the book launch party, January 2018.

—
UpRoute Books Imprint | Book Two in the 'Every River Poems' series
Trade Paper, $19.95 | E-book $16.95 (Available on Kobo)
ISBN: 978-1988824-05-5 | 160 Pages | Release, January 15, 2018
Publicity contact: Lorene Shyba, Publisher
lorene.shyba@durvile.com | 403 818-4808
For orders contact: University of Toronto Press
utpbooks@utppress.utoronto.ca | 1-800-565-9523