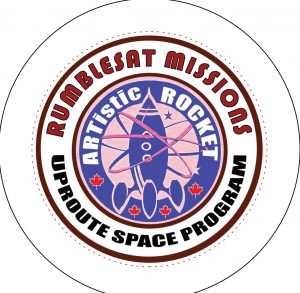 Yes, Canadian are Space Faring Peoples!
The RumbleSat Art in Space Missions. 
Calgary, Alberta. May 2017. Are we Canadians space-faring peoples? Yes, the journey has begun. The RumbleSat missions of the UpRoute Space Program aim to prove that we are, or at least Canadian art is up to the task! The team of artists and explorers of the UpRoute Space Program comprised of Flight Captain Dr. Jim Parker, Mission Commander Dr. Lorene Shyba, and Curator Mr. Rich Théroux announce the RumbleSat Art in Space missions. RumbleSat I is destined to carry Canadian art pieces to the edge of space in April and May 2017, and back again. Later in the year, RumbleSat II will launch Canadian art and music into orbit. Both missions celebrate Canada's 150 birthday as a nation.
The Journey Has Begun! RumbleSat I: The two RumbleSat I (a and b) missions are stratospheric balloon flights to heights of approximately 35 km. above the earth. Sixty-four small artworks (12 x 20 cm) are currently loaded on with the Canadian Space Agency payload, hitching a ride with their AUSTRAL 2017 campaign which lifts off from Alice Springs, Australia. In May, the second payload of 86 miniature artworks (2.5 x 3 cm) will launch from Nevada through JP Aerospace. The payloads of art from both of these two missions will return to earth as the "150 Artists Celebrating Canada 150; The RumbleSat Art from the Edge of Space Exhibition" that will begin a cross-Canada display at Rumble House Gallery in Calgary, AB in September 2017.
RumbleSat II: This satellite will orbit for a few months later in 2017, transmitting art images, music, and sounds from space; also running art experiments and gathering data for supplemental applications. It will burn up in fiery re-entry into earth's atmosphere, but during its orbit it follows and enhances RumbleSatI's explorations by using innovative technologies to capture and transmit signals that express the art and music of Canadians, from space.
Among project partners to date are MinkHollow Media – creating a videogame to track the satellite and display art and music; Durvile Publications – publishing the RumbleSat Art in Space exhibition book; the Canadian Space Agency – providing art access to space on their stratospheric balloon; Solara Remote Data – custom tracker units, Houghton Boston Printers, and Rumble House Gallery.
Join our Facebook Group at "UpRoute Space Program."
Please contact Dr. Jim Parker at jparker@ucalgary.ca, or Dr. Lorene Shyba at lorene.shyba@uproute.ca.