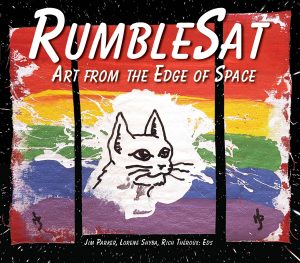 UpRoute Imprint Title
RumbleSat Art from the Edge of Space

Edited/Curated by Jim Parker, Lorene Shyba, and Rich Théroux

Now that the RumbleSat Art has journeyed to the edge of space and been successfully retrieved, a beautiful full-colour book is poised to celebrate this accomplishment. Featured in the book are the works of every one of the over one hundred artists who created original art for the launches, along with a selection of writings by the artists. A short story by Flight Captain Jim Parker and comics by Curator Rich Théroux are also integrated within the book.
The RumbleSat Art from the Edge of Space book will launch in October 2017, to accompany the art exhibitions at Rumble House Gallery in Calgary, The Canadian Space Agency, and at the Canadian Space Society Summit.
---
Info Release: UpRoute Space Program — More About UpRoute Space Program
Calgary, Alberta. July 2017. RumbleSat art has been retrieved from their flights to the edge of space.  Flight Captain Dr. Jim Parker, Mission Commander
Dr. Lorene Shyba, and Curator Mr. Rich Théroux announce the success of the RumbleSat Art in Space explorations.
The Journeys are Complete! The two RumbleSat I (a and b) missions were stratospheric balloon flights that soared to heights of 35 km. above the earth. Sixty-four small artworks (12 x 20 cm) completed their flight with the Canadian Space Agency payload in April 2017, hitching a ride with their AUSTRAL 2017 campaign which flew from Alice Springs, Australia. In May 2017, the second payload of 86 miniature artworks (2.5 x 3 cm) launched from Nevada on JP Aerospace's Away 123 PongSat. The payloads of art from both of missions have now returned to earth, ready to be installed in three locations.
"The RumbleSat Art from the Edge of Space Exhibition" will begin a display tour at Rumble House Gallery in Calgary, AB on  October 1, 2017 and will continue on to The Canadian Space Agency in Montreal; and then to the Canadian Space Society Summit in Ottawa, with an additional show planned for Cornerbrook, Newfoundland in 2018.
Join our Facebook Group at "UpRoute Space Program."
NEW! See pics on FB of the Stratos Austral and the Away 123 launch missions and recoveries.
Gallery of Images. Click on art to see full view.