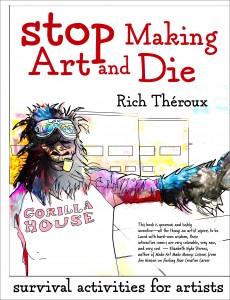 Stop Making Art and Die
Survival Activities for Artists
By Rich Théroux
by Rich Theroux | Read the Calgary Herald Review | Read Swerve Article
Far beyond a mere colouring book, Stop Making Art and Die: Survival Activities for Artists is the first adult activity book that makes it impossible not to succeed and flourish as an artist. Written and illustrated by Gorilla House and Rumble House founder Rich Théroux, the book gets you not only drawing, colouring, and designing, but immerses you into the meaning and wellbeing of art. The brilliantly creative Théroux also relates a story of artists overcoming struggles and obstacles to build an artists' Bohemia that is destroyed time and again, leaving only masterpieces in its wake.
Suitable for visual artists and aspiring artists of all types, Stop Making Art and Die provides great colouring and artist how-to projects while, at the same time, encouraging a deeper understanding of artistic practice and philosophy. Printed on high quality, thick paper, the pages are perfect for drawing and designing with markers, gel pens, watercolours, or pencil crayons.
Stop Making Art and Die: Survival Activities for Artists, is the first book for Durvile Publications' new imprint, UpRoute Bright Books with Bite.
Stop Making Art and Die is available on November 2016 from UpRoute Bright Books With Bite, an imprint of Durvile Publications Ltd. Price, $24.95 Canada $22.95 USA. ISBN: 978-0-9947352-2-5 | 208 Pages | Size: 8.25 x 10.75 inches
Download the Illustration pages by hovering over the lower part of the image. Join our FB page Stop Making Art and upload your colourful art! You can print the image and scan or there are neat apps you can use like YouDoodle (iOS), or Pic Paint (Droid) right in your phone or other device.