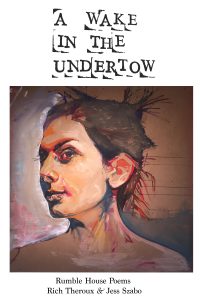 A Wake in the Undertow
Rumble House Poems
Written by Rich Theroux and Jess Szabo
This collection unveils two people in love as they disclose things survived, dig deep for sacred weapons, and face the tumult of running on fumes. This is a compelling work by Rich Theroux, the author of Stop Making Art and Die: Survival Activities for Artists, and Jess Szabo, a woman whose words radiate love, happiness, and generosity.
Trade Paper, $16.95 | E-book $9.95
ISBN 9780995232242  | 108 Pages | Release, July 5, 2017
A Wake in the Undertow
A few bonus poems
—-
I will carry
as much as i can as long as i can
and when my knees buckle she is there to
hold me locked
with all her might squeezing me like
a bear trap jaw shut on my kneecaps in her teeth locked down
she chomps and so i lift at least one more heave.
—
He is quiet Alive
his eyes
are darts
striking everything with dangerous attention
it's murder to make him speak
little me
he only smiles when
no one else is looking little reckless soul he tries on my sh oes laughs
at the holes
He knows I pace laps beating fruitless tracks
for him alone to run unfettered.
—